8 Tips to Speed up Your Adult Website in 2021
According to a well-known rule of thumb, a website load speed shouldn't exceed 3 seconds. Increasing the performance of an adult tube website is especially crucial as slow load speed can ruin your reputation and lead to money loss. Just imagine the frustration of a visitor of an adult website who was seeking relaxation and received a poor user experience instead.
Adult website optimization should be a priority of any webmaster and in this article, we would discover what are the main things making your website slower and how to fix them.
How to Detect Website Speed Issues?
If your website has a low number of conversions, a high bounce rate, a low amount of visitors per day, you need to look over your adult website speed. Having a slow website means testing your visitors' patience as it is hard to navigate a slow website. The low speed also negatively impacts the SEO for adult websites and can result in low Google rankings. If you want to significantly improve your tube website speed, make sure to utilize our tips.
8 Proven Tips for Adult Website Speed Optimization –
Read also: 8 points that constrain the profitability of your adult website
1. Test Your Site Speed and Review Diagnostic Information Regularly
Regular website speed tests will help you find out the gaps you need to fill. You can easily measure this metric with online services such as Pingdom, GTMetrix, or Google PageSpeed Insights. The procedure is easy as pie:
Copy and paste your domain name
Run the test
Wait for a few seconds
Get the results and recommendations you should follow to boost the traffic
To cut a long story short, a speed test gives you a snapshot of your webpage experience. It shows the quantity and size of your website elements, CSS files, HTML files, script files, the connection for every element, and what is the most important – the total time to load the page. Taking this information into account, you can drop off slow-loading files, failed elements, and flaws of your website. Stick to the plan you have got and fix the issues.
2. Upgrade Your Adult Website Hosting
A good adult site hosting is one of the most important elements of website optimization, so it's important to choose a server that quickly responds to the coming requests. You can choose to apply additional features to your current hosting plan, or you can purchase a more advanced package.
You can locate these options in the Upgrades menu on the left side of the Web Hosting Control Panel. The diversity of upgrades displays on the page of the Change Plan. There is a list of features every package offers and the price. Once you choose your suitable plan, you have to pay with the preferred payment method. To ensure the good performance of the upgrading plan, make sure to select a top-tier adult web hosting provider.
Notice that adult website speed also depends on your location. The closer your visitor is to the host, the quicker loading it will provide.
Read also: Top Scripts for Running an Adult Tube Website in 2021
3. Use a Content Delivery Network [CDN]
CDN is another great way to make your website faster. This is a set of web servers that minimizes delay in loading the web page with the help of decreasing the physical distance. This means that visitors from around the world can load your adult website without any delay. While you are not using a CDN, content servers must come back to every single user. It makes traffic encumbered with every user response.
CDN solves the problem of slow tube website speed for half of the internet's traffic. For instance, your server is based in the UK and a US user is eager to view your content. Due to the virtual trip across the Atlantic, the customer will experience a slow loading page.
This network stores a cached version of your adult website in different locations around the world. These geographical points are called "points of presence" (PoPs). The PoPs include your caching servers and deliver the content in the fastest way.
4. Optimize Images at your tube website
This is the most obvious way to stop slowing your adult website. Optimizing images is an easy-to-perform process. When getting ready with the images, you can open them in Photoshop and resize them to the final dimension. For the best result, your images should have less than 500 KB in file size. Note, that stock images are always in a very large format, so you may want to cut their weight.
After you resize the images, export them for the web in Photoshop which takes the second step in optimization. When you transport them out of Photoshop, you can drop off 50% of their dimension. This is more beneficial than doing a regular "save as". As much as possible, export the images in .jpeg format as it provides the best quality with the smallest size.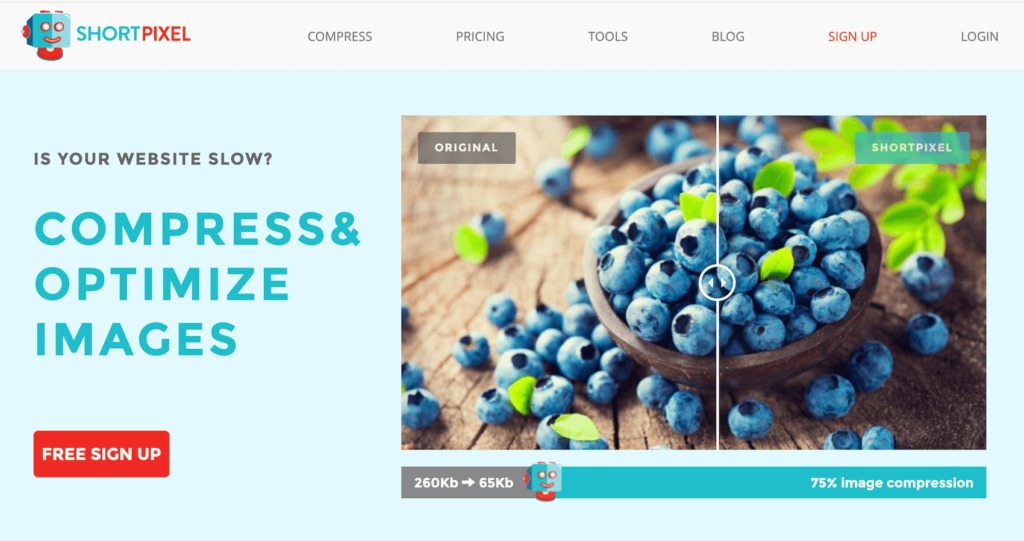 To end the image optimization, choose a website like ShortPixel or install its ShortPixel WordPress plugin. You can always preview the images before posting them, to ensure that they are still clear to view. This way works out best for primary images. To optimize thumbnail images you would better use the plugin. The service provides you with the limit for the available number of images according to the price of your package. It is worth its money as your images will be small, fast in the opening, they will save your storage space and serve in a good way to search engines.
Read also: Must-Have Essential Softwares for adult webmaster in 2021 | Tools you can't ignore
5. Leverage a Caching Technology to boost your adult website speed
Caching technology suggests a browser to keep the data of your adult tube website on the first meeting with the users. Next time they visit your page, it will pop up quickly instead of uploading all the data directly from the server.
Using the caching plugin provides you with the option to control the cached information. Many of the plugins combine it with the CDNs.
There are many top-rated plugins, such as W3 Total Cache, Autoptimize, WP Fastest Cache, and others. They offer a lot of features, but to get all of them you need to buy a pro license.
Read also: Native Ads | Everything you wanted to know as a website owner
6. Get Better Adult Video Player
As adult websites contain a lot of videos, it is essential to use a good adult video player. How to recognize whether it is useful or not? A good tube video player will not force you to worry about downloading additional codes or plugins to play your videos.
Most adult video players that support ads are too heavy or expensive. You can easily solve this issue by installing your favorite lightweight free player and enabling AdSpyglass Overlay VAST/VPAID Player over it.
This overlay VAST/VPAID player doesn't require any coding, supports VAST/VPAID tags from all the leading ads, rotates ads from different ad networks, provides you with the alternative ad statistic, and most importantly has no negative impact on your website speed.
Read also: Best Video Players for Adult Tube Site
7. Don't Install Too Many Third-Party Plugins and Remember Updating Them
Third-party plugins are great for providing additional features, but they also often slow the website down. Plugins can interfere with the functioning of your website and conflict with other installed plugins.
Every time the users visit your website, it takes time to load every aspect of your site: photos, videos, plugins, etc. Plugins are weighty to load and that is the reason why the speed is slower. Since that fact, you can declutter useless plugins to make your tube website speed on maximum.
You also need to remember to constantly update the plugins you can't remove as the updated versions are often better in terms of performance and security.
Read also: Overview of WordPress Themes for Your Adult Tube: List, Comparison, Pros & Cons
8. Watch how do you handle your adult website ads
Ads and advertising are one of the main entities for any adult tube site. And that's fair since the whole website monetization depends on these factors. In other words, we're facing some sort of dilemma here. The more ads you have – the more money you'll get. But at the same time, more ads also mean more time for your website to load. So, what to do?
If your page is filled with pop-up adult site ads on every side, the website speed will obviously depend on their loading. And if there is no way to cut the number of your ads, we may influence only on ads' quality.
Each ad – is a few strings of code. Add complexity to your ad and its code size will increase as well. However, you're surely aware that there a few ways of writing code. Actually, talented coders can fit some really difficult algorithms just into a few strings of code. And that what makes them so special.
So, the best option when using Ad Codes would be to ensure that these scripts are written by professionals – in a tidy and concise way. If you haven't found such a platform yet, you may try to handle your ads with Popunder Solution by AdSpyglass.
There you can easily get control over pop-under behavior on your website. No need to be a coding expert – you are free to change everything directly from a panel. Popunder Solution covers the impressions, clicks, CPM, CTR, and income from your ads. The service takes only 5 minutes to set up and allows you to use pop-unders from over 30 ad networks within one account. And these popunders are working really fast.
Wrapping Up
A slow adult website loading can cancel out all the effort put on filling the website with quality content and driving traffic to it. No one is eager to stay on the site when it comes to waiting these precious seconds.
The 8 tips discussed in the article would definitely help you take your website speed to the next level. Whichever tip you use, your adult website loading speed will improve but we advise utilizing them all to get the best results. Take good care of your tube website speed today and enjoy a high ranking in Google and high conversion rates tomorrow.
Read also: Best Adult Ad Networks 2021