Adsterra is a well-established advertising network that has been providing publishers with a variety of ad formats to monetize their traffic since 2013. With more than 30 billion impressions served each month, Adsterra has become a popular choice for publishers looking to maximize their revenue.
Adsterra operates in over 248 GEOs and has run over 100k successful campaigns. The ad network offers a variety of ad formats for desktops, mobile devices, and tablets. Adsterra provides some of the highest CPM rates available for publishers, with reliable payment schedules.
This guide will break down the numbers and main features of this ad network to give you a clear picture of how Adsterra operates so you can see if it's the right fit for your business.
Disclosure: This is an update of a post we first did a few years ago, this current version has the most up-to-date information on Adsterra ad network.
Adsterra Ad Types
Adsterra offers a variety of ad types to help advertisers reach their target audience effectively:
Popunder Ads, which open in a new browser window behind the current window.
In-Page Push Ads are another effective option that display as notifications on the user's device.
Display Banners are a classic ad type that can be placed on websites to promote products or services.
Native Advertising is a form of advertising that blends in with the content of a website for a seamless user experience.
VAST Video Ads are pre-roll or mid-roll ads that play before or during video content.
Social Bar is a unique ad type that appears at the top or bottom of the page and can display social media profiles or links to websites.
Adsterra Offer Types
Adsterra offers various payment models to its publishers, including CPM, CPA, CPI, CPL, and CPO.
CPM (Cost Per Mille) is a model where you are paid for every 1,000 impressions of an ad. CPA (Cost Per Action) is a performance-based model where you are paid when a user takes a specific action, such as making a purchase or filling out a form. CPI (Cost Per Install) is a model where publishers are paid when a user installs an app or software. CPL (Cost Per Lead) is a model where publishers are paid when a user fills out a lead generation form. Finally, CPO (Cost Per Order) is a model where publishers are paid when a user completes a purchase on an advertiser's website.
Please note – AdSpyglass supports only the CPM model, so if you choose to work with Adsterra via the AdSpyglass platform, that's the offer type you'll work with.
Traffic Types
Adsterra supports all traffic types (desktop, mobile, and tablets)
Adsterra Targeting Options
Adsterra offers a comprehensive range of targeting options to help advertisers run successful campaigns. Here are the targeting options Adsterra provides:
Device Formats: Target campaigns to specific device models, such as mobile phones, desktops, or tablets.
OS & Browser + Versions: Targeting based on a specific operating system (Windows, macOS, iOS, Android) and browser (Safari, Chrome, Firefox, etc.), as well as specific OS and browser versions.
3G & Wi-Fi Targeting + Carriers: Target traffic worldwide via Wi-Fi or 3G on any mobile carrier.
Geo & Language Targeting: Target the audience based on their geographical location and language.
Frequency Caps: Advertisers can choose when and how often to show their ads.
Budget Caps: Advertisers can set specific hourly/daily/total campaign limits.
Day & Time Targeting: Advertisers can schedule the exact time and specific days of the week to show the ads.
IP Targeting: Target mobile and desktop devices based on their physical location.
Black- & Whitelists: Advertisers can handpick the websites to show (or not to show) their ads on.
Adsterra Payment Rules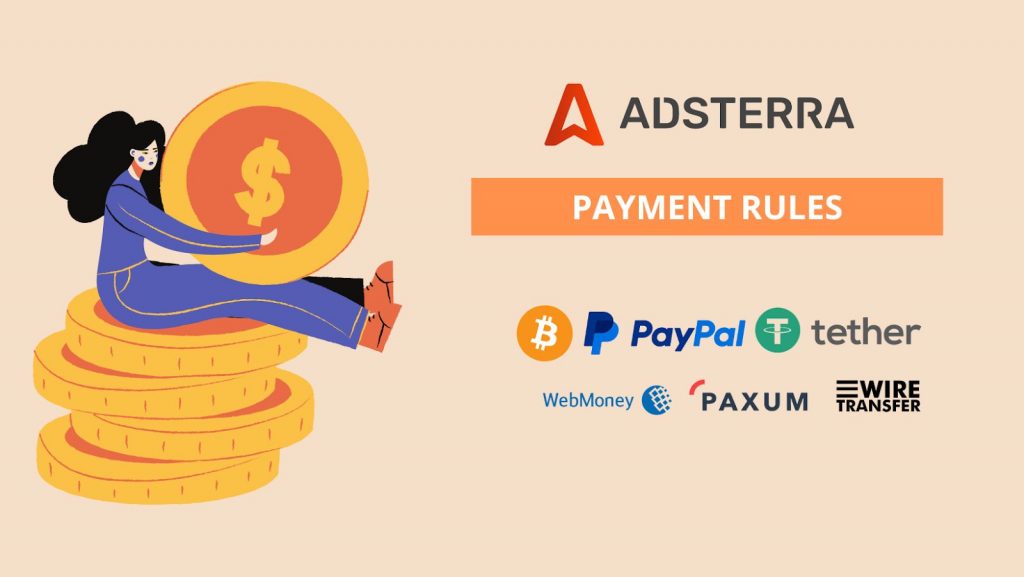 Adsterra offers multiple payment methods to its publishers and has specific payment rules that need to be followed. Let's look at Adsterra's payment rules closer.
Payment Methods
Adsterra supports several payment options including Bitcoin, PayPal (via Hyperwallet), Tether (ERC20 and TRC20), Wire transfer, WebMoney, and Paxum.
The fees charged by each payment system are listed on the Payments page within a user's Adsterra account.
The payment rules are as follows:
The minimum payout amount varies depending on the payment method selected. For WebMoney and Paxum, it is $5, for Bitcoin, PayPal, and Tether, it is $100, and for Wire transfer, it is $1000.
Adsterra processes payments twice a month, on the 1st and 2nd, and on the 16th and 17th of each month, from 9:00 am to 6:00 pm GMT. If these dates fall on weekends or holidays, the payments will be processed on the nearest business day.
To withdraw earnings, users must reach the minimum payout amount and wait for 2 weeks until the funds are automatically released after the hold period. Payment information must be completed before the payment period to ensure successful payment processing.
Once you have filled in all your payment details and have reached the minimum payout amount, the payment is automatically scheduled. The payment schedule depends on when the minimum payout amount was reached:
If the minimum payout was reached between the 1st and 15th of the month, payment will be made on the 1st or 2nd of the next month.
If the minimum payout was reached between the 16th and the end of the month, payment will be made on the 16th or 17th of the next month.
It's important to note that if the balance was earned in different periods, the payment will be split and paid in different payment periods.
Adsterra Payment Proof
Here is the payment proof of the Adsterra ad network:
Adsterra Customer Support
Adsterra provides exceptional support to its users. The support team not only helps you optimize your campaigns but also shares valuable insights that can boost profitability right from the start.
The support network consists of multiple channels, including live chat, Skype, email, and extensive help files and guides. Whether you're new to the platform or managing larger volumes, Adsterra's team is always available to help and provide assistance.
Terms, Conditions, and Other Notes
AdTerra's terms and conditions are designed to maintain the safety and quality of their network. There are requirements for site quality and popularity, for instance:
Sites must be complete with content. In other words, sites that are under maintenance or unavailable will be rejected. Sites with too few posts or too many blank pages will also be rejected.
The website cannot be overstuffed with advertisements. Sites cannot have 15 or more banners and 5 or more popunders. Sites determined to be popunder or banner farms will be rejected.
Some sites are not welcome on Adsterra
Adsterra will reject your site if any of the following applies:
Your website is still under development or has a very limited audience;
Your website violates third-party rights or laws (such as copyright, trademark, and privacy laws);
there is inappropriate content;
you promote illegal goods or services, such as human trafficking, weapons, illegal gambling, and other prohibited content.
Additionally, Adsterra does not allow the promotion of media that is harmful to minors, body parts or human remains, protected animals or plants, or any other illegal goods, services or transactions.
If you are found to be artificially inflating traffic counts using methods such as (including but not limited to) a device, program or robot (bots), you will be banned from using Adsterra. They also reserve the right to refuse entry to your site for reasons not specified.
In general, they do not want sites that have any illegal materials, are incomplete, have low-quality content, or material that can be seen as objectionable or overtly offensive.
Note that they do not allow any type of pornographic site, but there are other ad networks out there that do accept this type of site.
Referral Program
Adsterra has a referral program that offers 5% of the revenue generated by the publishers you referred for a lifetime (as long as the publisher remains online, of course). You can attract referrals to them via blogging, social networks, text links, and other options.
CPM Rates
You may compare Adsterra's CPM rates to Propeller Ads and Hilltop Ads or other ad networks by countries here, including Africa and other regions.
Mainstream CPM rates:
| | | | |
| --- | --- | --- | --- |
| Adsterra mainstream | Popunder CPM | Banner CPM | In-video CPM |
| France | 0.53 | 0.05 | 0.33 |
| Germany | 1.27 | 0.62 | 0.39 |
| USA | 1.82 | 0.32 | 0.3 |
| Brazil | 0.47 | 0.07 | 0.03 |
| China | 0.94 | 0.01 | — |
| Indonesia | 0.38 | 0.02 | 0.02 |
| Bangladesh | 0.41 | 0.0 | 0.01 |
| India | 0.47 | 0.01 | — |
Adult CPM rates:
| | | | |
| --- | --- | --- | --- |
| Adsterra Adult | Popunder CPM | Banner CPM | In-video CPM |
| France | 1.21 | 0.04 | 0.5 |
| Germany | 1.27 | 0.1 | 0.66 |
| USA | 2.25 | 0.09 | 0.67 |
| Brazil | 0.47 | 0.01 | 0.02 |
| China | 0.85 | 0.01 | 0.0 |
| Indonesia | 0.33 | 0.02 | 0.0 |
| Bangladesh | 0.25 | 0.0 | 0.01 |
| India | 0.28 | 0.03 | 0.01 |
Adsterra pros and cons
As any other tool, Adsterra has its pros and cons.
Pros:
a wide range of ad formats
competitive rates and payouts, with a minimum payout amount as low as $5 for certain payment methods
a user-friendly interface
a responsive and helpful support team that is available through live chat, email, and Skype
back URLs are provided for unsold traffic at user's request
Cons:
strict rules and guidelines regarding the content that can be monetized
has been known to have a higher level of ad fraud than other advertising networks, which can negatively impact your revenue and reputation
has been criticized for having a lack of transparency and communication with publishers, particularly when it comes to issues with payments and ad performance
Final thoughts
Adsterra is a versatile ad network that can cater to smaller websites as it doesn't have any traffic requirements and offers a low minimum payout of $5. With a wide range of payment options, it's easy to receive payments.
Moreover, Adsterra offers various ad formats for desktop and mobile platforms, making it suitable for different types of websites. Its diverse targeting options enable ads to reach the right audience, ensuring maximum effectiveness. Overall, Adsterra is a flexible ad network that can seamlessly integrate with any site.
Maximize your ad network revenue with AdSpyglass
All ad networks have their own advantages and disadvantages, but with AdSpyglass, you can connect to multiple platforms and benefit from each of them.
Our process is straightforward: we automatically choose the most profitable offers from leading ad networks and showcase ads with the highest CPM on your websites. You have complete transparency over the data we collect, and we switch your ad tags to the most profitable offers automatically.
These provide three significant advantages:
You can experience an income increase of up to 100% automatically.
You don't need to change ad tags, as you manage all your ads (both network ads and your own ads) directly in the AdSpyglass dashboard.
You can access comprehensive statistics from all inventory in the AdSpyglass reports, giving you all the data for in-depth analysis and informed decision-making.