One of the most essential tools you need to pick up while running an adult tube site is a video player. Not long ago, Flash was the only option available on the market, however today the diversity of video players is far greater. An adult webmaster needs to conduct profound research to choose a paid or free video player for a website that fits his requirements and business goals.
In this article, we would provide a list of things you need to consider while choosing a video player as well as the top 7 solutions for adult tube sites.
How to Choose Right Video Player for Your Adult Tube Site
Video Player performance is one of the critical points for every tube website. The quality of video streaming can become a determining factor for the overall success of your resource.
Recently, we've been reviewing the best WordPress themes for running an adult website.
Today, we've decided to pursue the subject of running a modern and tech-savvy website. And video player is the next point on our list.
How to choose a decent player and which questions to ask yourself before getting started?
A robust adult video player should obviously be fast and easy to use.
But what else should be considered while choosing an online video player for your tube or adult website?
Multiple Browsers and OS Support
The high-quality video player runs on every operating system and in every browser, so visitors of your adult tube site won't have problems accessing the content.
Open Source
You may also pay attention to open-source video players. If any bugs would be detected, various web-developer communities would be able to fix the problem and help you. Also, you'll find a lot of useful information on blogs and forums. And, of course, that's free.
Video and Audio Quality Management
The quality of video and audio is of crucial importance for adult tube sites, so your video play should allow you to adjust the quality parameters according to your needs. Moreover, the support of player acceleration would be a huge plus for the adult video player.
Conversion Capability
We strongly advise you to choose the video player which includes this function. You need to have the ability to convert a standard 18+ video to MP4 form as without it you won't be able to upload the content to your adult tube site.
Ability to Adjust Settings
A solid video player offers a variety of settings as window sizing, contrast and saturation adjustment, cache sizing, and subtitle positioning.
Top 6 Best Video Players for Your Adult Tube Site
Read also: Top Scripts for Running an Adult Tube Website in 2021
1. Video.js
Overview of the Video.js player for website
Used on over 450,000 websites, Video.js is built on an HTML5 base and has rich community support and a variety of useful features. With its help, you can provide video playback on mobile devices and desktops.
Distinctive Features of the video player
Video.js supports all video formats: standard MP4, WebM, and streaming formats HLS, DASH. Moreover, it has a live streaming feature which may be very useful for an adult tube site.
With the hundreds of plugins you can set up, the additional functions can appear on your adult video player at once.
It runs on every modern browser, so you don't need to worry whether the videos work for every user or not. Moreover, if you use Video.js, visitors of your adult tube site can watch high-quality videos on mobile devices.
This tube video player superbly fits WordPress's latest version, so you will effortlessly cope with it if you are a WordPress adult site webmaster.
Video.js Ad Management Features
Advanced features such as plugins, advertising, analytics, and playlists are available in advanced formats: HLS and DASH. Ads-plugin provides common functions by video advertisement libraries.
Pros and Cons of the Video.js online player
Pros
A huge media library
A lot of video formats available
Subtitle support
Cons
Absence of keyboard interface
Poor in-built monetization opportunities
Absence of playlists
Conclusion about Video JS for websites
This free open-code online media player stands out by its range of features. However, to fully customize this player and use its full potential you need to use paid plugins and skins.
2. JW Player
Full review of JW Player
By choosing JW Player as your online media player, you will receive the player which supports HTML5 video playback and almost all the video formats. It is fully customizable so you adjust its settings according to your needs.
Distinctive features and benefits of JW Player
JW Player is considered to be the fastest among all HTML video players. It provides a buffer-free experience with HLS and DASH adaptive streaming.
Discover its unique feature: 360-degree videos and VR. The customers of your adult website will be undoubtedly content to watch 360-degree videos on all the devices.
Moving further, JW Player has an auto-generated algorithm for video recommendations. That is to say, adult webmasters make up curated playlists with solid playlist tools. The Real-Time recommendation service tackles a case of your customers' preferences: it delivers the videos at the right time for the right people.
There is a tracking option that helps to analyze video performances. It will show you the information to consider whether the videos are popular among the viewers or not.
JW Player in-built ad management features
Thanks to its best-in-class ad integration and broad standards support, you can tune your monetization program. Coupled with that, VAST, VPAID, VMAP, and Freewheel are supported. But the advertising possibilities are quite limited: the player's support team should approve your program as the deal touches adult content.
JW Player's pros and cons
Pros
Full customization
Fastest-delivering system
Playlists monitoring possibility
Cons
Hassles presence in the compilation process
Much famous distributed version
Limited monetization programs for adult content
Conclusion about JW Player
JW Player is a split option for adult tube sites as it offers a range of user-defined themes. Its analytics features find out the video content performances so you can correct it. JW Player mobile SDKs hold the function of high-resolution video and advertising.
3. Kernel Video Sharing Player (KVS Player)
KVS Player overview
KVS is another professional solution for uploading video content to your adult tube websites. It operates by multi-server storage and conversation support, advanced caching system, open-source PHP code, customizable politics, and many other cool features.
Distinctive Features of the online video player
As a very common but important option, KVS holds the possibility for photo and text content that can be used inside the video or separately.
It supports multi-format video with different qualities: 360p, 720, 1080p, etc. Multiple groups of videos to maintain different video types are also included. With its help, you can create the mini-preview format for playlists.
As a huge plus, KVS provides a video conversion option. To be precise, you are free to make videos in different formats, to create screenshots and their formats, to copy files to preserve.
Its reliable content storage system allows you to store videos locally or on remote servers, and even create an individual CDN (content delivery network).
Online Player Ad Management Features
KVS maintains a variety of advertising options that will transform your adult tube site into a source of income. Create an advertising spot, place it on the website, allow people to see ads on their mobile devices and desktops, and get revenue. What's more, KVS supports integration with advertising spots so to put on view all the ads features.
Pros and Cons of KVS
Pros
Multi-format video sharing
Ad management comprehensive opportunities
Video conversion function
Con
Complicated setup system
Advanced features on the paid version available
High price
Conclusion about Kernel Video Sharing Player
This player meets modern challenges and possesses all the options to make your adult tube site a professional one. With its configured monetization system you can make money in a variety of ways.
4. Fluid Player
Overview of Fluid Player – online video player
Fully customizable Fluid Player assists the adult tube website owners, giving precise step-by-step instructions. It is a free open-source HTML5 player with easy-to-implement advanced VAST capabilities.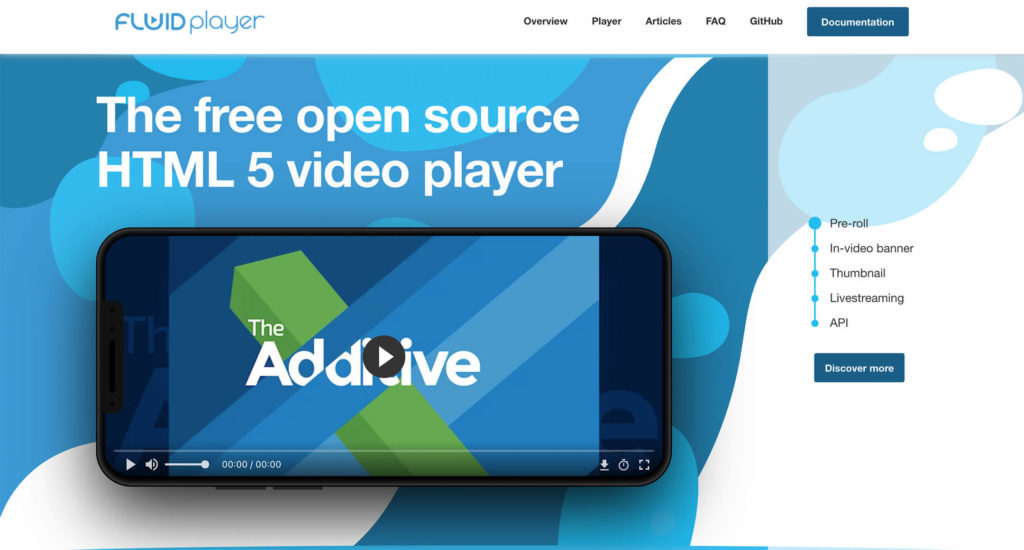 Fluid Player: Benefits and Features
As a great opportunity to surprise your viewers, you can use Fluid Player to upload monoscopic videos with a 360-degree view. Coupled with VR, it maintains different resolutions: 480p, 720p, 1080p.
The adult video player holds video streaming support for MPEG-DASH and HLS protocols. The streaming happens by splitting the content into segments that are chosen by the highest bit rate available.
Its integration stands on WordPress Plugin and CDN hosted player. Once you install the plugin, you need to use the shortcodes on your page or post. It already contains sample videos, a thumbnail preview, and a vast file.
Ad Management and Advertising with Fluid Player
Fluid Player is the perfect choice when you base your requirements on the advertising features. It is open to integrate with any ad network, ad exchange, or video ad server.
It is compatible with the VAST standards:
VAST tags – pre, mid, and post-roll;
linear videos ads;
non-linear video tags – png, gif, jpg;
VAST Wrappers;
VPAID ads.
When the video is paused, the HTML banner comes in the top right corner of the video with the ad text message. But take into account that you will have to use third-party services for ad management as it doesn't allow adult content to be monetized.
Pros and Cons
Pros
Easy customization process
Many-sides ad management options
Improved versions
Cons
Poor choice of browser to run on
Lack of webmaster support
Forbidden monetization for adult content
Conclusion about Fluid Player
This video player gives you the freedom in editing the videos as you wish. Customizable, integrative and simple in its use, Fluid Player possesses many interesting features.
5. FV Player
FV Player Pro full review
FV Player is a perfect solution for an adult webmaster who is seeking an easy-to-use and feature-rich video plugin. The service offers pro options, like pre and post-roll video in a row with other modern video player functions.
Distinctive Features of FV Video Player
"Making the web work for you",– is the company's slogan that fully reflects its values.
To start with, FV Player outranges the competitors with broad integration capability. You can host the videos on almost all platforms including Vimeo, Amazon Cloudfront, Amazon S3, CDN, and more others altogether.
It is a reliable source that keeps up with all WordPress, Mac, Android, Linux, Windows updates. Having been building FV Player on WordPress for 7 years, the service happens to be very easy and powerful. With the huge experience behind it, the FV Player team developed a standards-based interface with linear workflow.
To ensure the customers that FL Player developers appreciate them, there is email support from true video of web experts. Moreover, you can get paid development if you wish.
FV Player: VAST, VPAID and other Ad Management Features
FV Player supports VAST and VPAID ads. The advertisements can be displayed on all types of devices with pre-roll or mid-roll. To boost your ad performance, track them with third-party analytics tools.
Pros and Cons
Pros
Broad integration capabilities
Powerful interface
Web experts support
Cons
Paid VAST and VPAID ads (150$ per 1 domain)
Lack of video conversion
Complicated setup process
Conclusion about FV Player
Generally, FV Player is the perfect choice for hosting adult video content. It seems to be a big experienced engine with consistent updates. However, ad management is paid, so you should dive into its features before buying to get revenue.
6. Kaltura
Overview of online video player for website – Kaltura
Trusted by the world's top organizations, the Kaltura tube video player is a flexible, easy-to-set-up, plug-in included service. Supported for HTML5 and Flash, it integrates with different platforms. Let's learn more about Kaltura!
Key Features of Kaltura Video Player
Kaltura possesses multi-format support. With its simple embed code your videos, streams, and advertising will be delivered to any device.
Developed in collaboration with Wikimedia Foundation, its player library has a robust performance. It maintains the packing of modules, metadata, and features. Every player feature is a single one so your payload will not be blocked.
With the collection of appealing and light-video templates, your website will be your unique personal brand.
Ad Management Features
Being an integrated adult video player, Kaltura cooperates with the major ad networks and analytics providers. It is a VAST/VPAID-compatible player with integrated plugins, such as FreeWheel, AdapTV, Ad Tech, and more.
Pros and Cons
Pros
Multi-integration capabilities
Robust performance
Free trial versions
Cons
Lack of video conversion
Lack of modern features
High price for VAST and VPAID ads
Conclusion about Kaltura
This lightweight adult video player is unique in its broad integration possibilities. Easy-to-use, high in performance, and full of video templates, Kaltura stands out among the competitors with its unique options.
Monetize Your Adult Website with Video Ads
Not all video players provide enough monetization options.
Most of the proprietary players have a very basic range of features for ad monetization. At the same time, their paid plans and plug-ins allow configuring your monetization in almost any way, making their paid plans much more attractive for webmasters.
Owners of these players know, that if you work with advanced ad management features – it means that you're making enough profit to cover the cost of the pricey software.
Of course, there is another option. You may also choose a free open-source player, and 'go hardcore' by coding the ad management solution by yourself. But this is a difficult, long, and expensive way that will also require a lot of tech support in the future.
So, both ways are 'eh.'
But there's also another way, the third one. You may combine all the benefits of the open-source players with a sophisticated ad management solution for free. How?
AdSpyglass. While video players try to get an advantage from you, AdSpyglass lets you use open-source players in combination with its VAST/VPAID proprietary tag for free and accomplish everything much easier.
So that means, that you may benefit from using high-end Video.js in combination with VAST/VPAID Adspyglass player and get full control over your videos and ad management. Make sure that your users enjoy flawless video broadcasting while seeing your ads.
Final Thoughts
Adult video player is one of the most important choices you need to do so to run a successful adult tube website. Their diversity is immense, but the best video players can be counted on the fingers. Learn the descriptions above, choose the solution that best serves your needs and enjoy the high income from your adult tube site!

---
More read: