In the world of monetization, webmasters should be aware of the latest developments in the advertisement area. Certainly, you can try selling ads directly to business owners, but the result may be far from a desirable one. That is why you need to choose the right ad network to help you effectively build the process of advertising and get high revenue. Needless to say, there are plenty of ad networks that offer webmasters a great set of tools to maximize their income. Adsterra is one of them. Being comparatively new in the advertising sphere, the ad network impresses the customers with its active and reliable position on the market. Nevertheless, webmasters find some alternatives to Adsterra because it is impossible to combine only the best features. Here you will find the most profitable Adsterra alternatives, their comparison, and using recommendations.
Why is Adsterra Favored By Many Webmasters?
Adsterra has a great reputation in the ad monetization field. This company is known by publishers and advertisers from all around the world. Leading more than 248 GEOs and 25+ billion impressions monthly, Adsterra has already conducted 100K campaigns. Have a deep look at Adsterra's distinctive features and find out the reason why it is so popular.
Wide Variety of Ad Formats
Adsterra offers plenty of ad formats: pop-under, push-up ads, banner ads, video banners, direct links, interstitials, and a sticky footer. They are available both for desktop and mobile.
High CPM Rates
With this ad network, you will increase your CPM rates for mainstream traffic and adult traffic. It works especially well in the USA, Germany, China, and France.
Profitable Payment Rules
When you earn the revenue, you can get it through various payment systems: through PayPal with no charge by Adsterra and PayPal itself 2-5% charge of the transaction; through Bitcoin with 0.1% Adsterra charge for transaction; through Webmoney with 0.8% Adsterra commission; through Paxum with $1 Adsterra fee for every payout sum; through bank transfer with $50 for USD and $0 for EUR Adsterra charge.
Extensive Knowledge Base
The Adsterra team has an extensive knowledge base featuring all the details about their platform and how a webmaster can make the best out of it. There's also a FAQ section on the website where you can find answers to all the questions you may have while using Adsterra.
Great Referral Program
Adsterra offers 5% of the revenue if you stay with a certain publisher for a lifetime. You can add referrals to them through social networks, text links, blogging, etc.
What Are the Pitfalls of Adsterra?
Although Adsterra has a huge set of money-making options, it still has disadvantages that can't be omitted. Discover them in the section beneath.
Lack of Customer Support
Whether you want to get the answer or solve some technical issues, you can always contact them via Skype. But making a call directly to a master may be time-consuming. That is why it would be great to communicate via live chat. Unfortunately, Adsterra doesn't provide this function.
High CPM Rates Only for Certain Countries
Adsterra offers great CPM rates for the USA, Germany, France, and China while CPM in other countries may not be so high.
Big Minimum Payout
If you want to get the revenue, your minimum payout should be $1000 for wire transfers and $100 for other types of payments. It seems like a little bit high rate to get the money.
Why Should You Consider Other Options Instead of Adsterra?
As you have seen, Adsterra is a well-known ad network with various helpful features. There is no doubt you will monetize your site with this service, but why experience its disadvantages as well? There are many Adsterra alternatives you should know. Find their description and comparison to Adsterra to choose the right one.
What to Pay Attention to While Choosing an Ad Network?
When you decide to work with an ad network, you need to know the key features to pay attention to while making a choice. Spare no time to do research. Visit the company's site, find what they offer. Whether you are a master or beginner, it is crucial to get involved in the process as soon as possible. Check if the service has studies to help you to catch the idea. It is essential to find out whether the network has a direct connection to the publishers or other third parties. That will show you how much control you have. It also refers to the service's transparency. Find out its technology and level of optimization. Learn about the ad formats they offer, payment system, referral program, and support team.
What Are the Best Adsterra Alternatives?
Every ad network is exceptional. Some developers offer a wide range of options and others propose fewer features. But still, there is not only one perfect ad network that has an excellent performance. In this article, we will consider ExoClick, Clickadu, Hilltop Ads, and Propeller Ads ad networks as the best Adsterra alternatives.
ExoClick as a Competitor to Adsterra
What Is Special About ExoClick?
ExoClick has been existing on the market for 15 years and now it is the 4th largest ad network in the world. It is the best choice for webmasters who promote entertainment, lifestyle, and adult themes. This is a very reliable service that will help you to stand out among other competitors.
You will be pleasantly surprised to find out that ExoClick has to offer more than 20 ad formats. It allows billboard banners, in-video banners, display banners, sticky banners, video banners, native advertising, pop-unders, and many other ad formats available for desktop and mobile.
Since you launch ExoClick, you will have stable and high CPM rates in all countries except Asian ones. They have clean ads without malware or viruses that is a big advantage among other networks on the market.
With the help of this ad network, you can adjust targeting options as well. The big plus of ExoClick is that it allows weekly payments which are not available for most other ad networks. You can get your money via PayPal, Paxum, and Payoneer with a $20 minimum payout, via Webmoney with a $200 minimum payout, and via wire transfer with a $500 minimum payout.
ExoClick provides real-time statistics, multiple formats, and a dedicated support team available 24\7.
Also, there are a few special pages where we've discovered the main differences between these ad networks and their CPM comparison: ExoClick vs AdsTerra | AdsTerra vs ExoClick.
ExoClick and Adsterra
ExoClick
Adsterra
has clean ads with no malware and viruses
has high CPM rates for all countries, except the Asian area
offers weekly payments
is open to questions via email
provides back URLs for unsold traffic by request
offers high CPM rates for mainstream and adult traffic
supports most of the ad formats including in-video
has a profitable referral program
What Are the Advantages of ExoClick Over Adsterra?
There is a big plus about ExoClick service – they offer weekly payment which is very comfortable when you want to get your money quickly. If you are an adult webmaster then this ad network should be the best choice for you. It works clean, without malware and viruses so you can be sure of a successful advertising campaign.
What Are the Disadvantages of ExoClick Over Adsterra?
ExoClick's customer support is very poor. You can contact them only via email, while Adsterra's expert team is open via Skype and email as well. ExoClick provides high CPM rates but only for certain countries except for Asian ones. And the last but not the least remark is that ExoClick is an adult-oriented ad network that can't be suitable for every kind of site.
Clickadu as a Competitor to Adsterra
What Is Special About Clickadu?
Being a relatively new ad network, Clickadu has already gained a reputation as a modern and expert service. They provide 4+ billion impressions daily and 3.6 million conversions per day. Both advertisers and publishers will find Clickadu as a very helpful tool.
This platform owns a lot of ad formats: banner ads, pop-unders, push notifications, in-page push, instant text message, and SKIM. Clickadu is perfect for beginners. It is easy to set up even during the coffee break: it takes just a little to get the process started. It is a user-friendly self-service program with statistical transparency and campaign automation.
Clickadu offers you various payment services to get the revenue in the most comfortable way. Receive money via ePayments, Epese, First Choice Pay, Paxum, PayPal, Payoneer, and Webmoney. Additionally, they include wire transfer and Bitcoin to the list of payment services.
This ad network has a very devoted support team. You are free to contact Clickadu's experts via email, Skype, and even phone. They also have a ticketing system to deliver publishers' questions about their queries directly to the department.
Users of Clickadu's service will be offered to maximize their income with the referral program. For the first month, it takes 10% of the publisher's revenue, during the second month – 7%, and after this period it equals 5%.
Again, we've created a few special pages where we've discovered the main differences between these ad networks and their CPM comparison:
Clickadu vs AdsTerra | AdsTerra vs Clickadu
.
Clickadu and Adsterra
Clickadu
Adsterra
has dedicated support team via email, Skype, and phone
has great payout frequency
is suitable for small publishers
offers profitable conditions of a referral program
has reliable CPM rates for desktop and mobile traffic
starts monetization program on the day of registration
offers referral program
works with small and large publishers as well
What Are the Advantages of Clickadu Over Adsterra?
Clickadu has a preference over Adsterra in the quality of their customer support which can be offered even via phone. They also have different payment systems to get money most conveniently.
What Are the Disadvantages of Clickadu Over Adsterra?
Unlike Adsterra, Clickadu is more suitable for small publishers. They resell unsold traffic to others as networks and provide a low fill rate.
Hilltop Ads as a Competitor to Adsterra
What Is Special About Hilltop Ads?
Hilltop Ads is the modern ad network that provides best performing formats in the latest trends. They work with small and large publishers and help to monetize your site 30% more effectively than before. This service is welcomed for all niches including web and mobile traffic.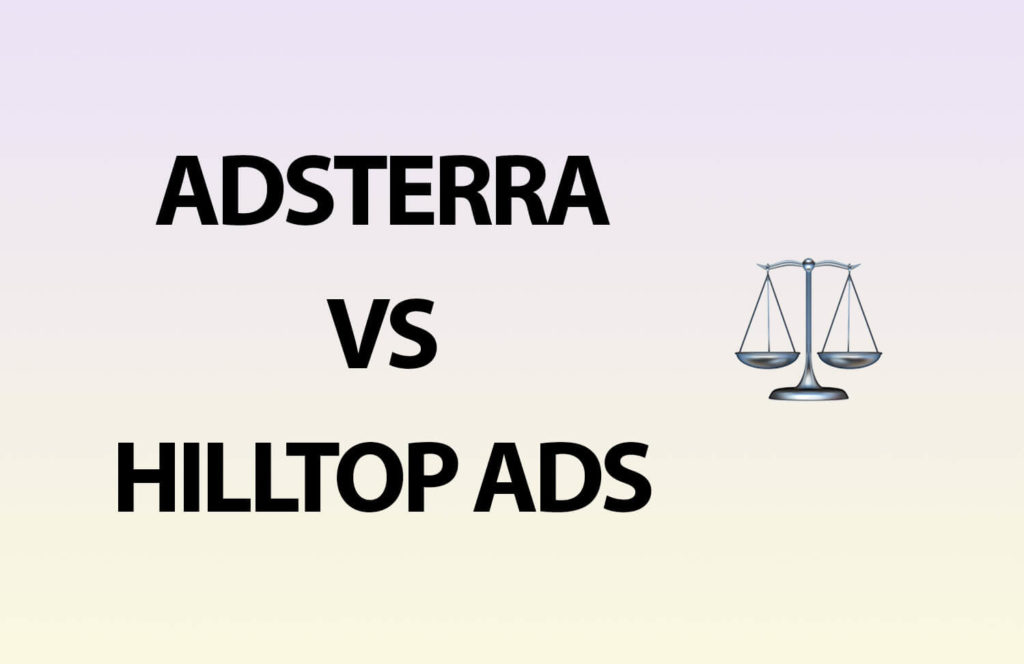 With Hilltop Ads company you can post the ads in various formats: native ads, video ads, push notifications, pops, direct links, and display banners. They provide traffic from direct publishers, advanced targeting, no blocked impressions, eCPM real-time optimization, ad network rotation for publishers, no financial transaction fees, and many other helpful features.
To get money from Hilltop Ads, you will have to earn a minimum $50 payout. Although they do not have fees for transactions, some of the payment services do.
We've created a few special pages where we've discovered the main differences between these ad networks and their CPM comparison:
HilltopAds vs AdsTerra | AdsTerra vs HilltopAds
.
Hilltop Ads and Adsterra
Hilltop Ads
Adsterra
provides traffic from direct publishers
has advanced targeting options
has good CPM rates especially on mobile
offers weekly payment
has three-level security
has a self-service platform
connects publishers and advertisers of all sizes
provides high service quality standards
What Are the Advantages of Hilltop Ads Over Adsterra?
Hilltop Ads is very comfortable due to payment rules as they offer weekly payments when Adsterra only twice a month.
What Are the Disadvantages of Hilltop Ads Over Adsterra?
Compared with Adsterra, Hilltop Ads doesn't provide self-service. If you need to change something on an admin panel, you will have to first ask a manager and only after that involve changes.
Propeller Ads as a Competitor to Adsterra
What Is Special About Propeller Ads?
Propeller Ads works as a trusted and well-liked ad network on a number of levels: with marketers and affiliates with the ability to monetize almost everything. They help to get revenue from websites, apps, browser extensions, games, and social media pages.
This service has automated ad optimization. The AI system will boost the productivity of your site to get the highest number of impressions. No need to say that with Propeller Ads you are protected: fraud prevention security works to enjoy legit traffic.
There you are the creator as Propeller Ads company offers a self-service platform and allows you to monitor your performance.
We've created a few special pages where we've discovered the main differences between these ad networks and their CPM comparison:
PropellerAds vs AdsTerra | AdsTerra vs PropellerAds
Propeller Ads and Adsterra
Propeller Ads
Adsterra
has numerous payment methods
offers 5% affiliate program
offers automated ad optimization
works with complete fraud prevention
stands for quick monetization
offers 24/7 dedicated support
provides transparent policy
has distinctively high CPM rates
What Are the Advantages of Propeller Ads Over Adsterra?
Propeller Ads has a range of modern features that are helpful for those webmasters who seek a platform with easy-to-use self-service. Adsterra itself doesn't allow such a function.
What Are the Advantages of Propeller Ads Over Adsterra?
Although Propeller Ads is a reliable ad network, it allows payment only monthly. Customers experience regularly low CPM rates with this ad network. Their first minimum payout is $100 and for wire, it is $500. And what is the biggest gap between Propeller Ads and Adsterra is that Propeller Ads doesn't work with adult content.
Ad Mediation as the Best Choice for Advertising Campaign
Why You Need to Choose Ad Mediation Instead of One Ad Network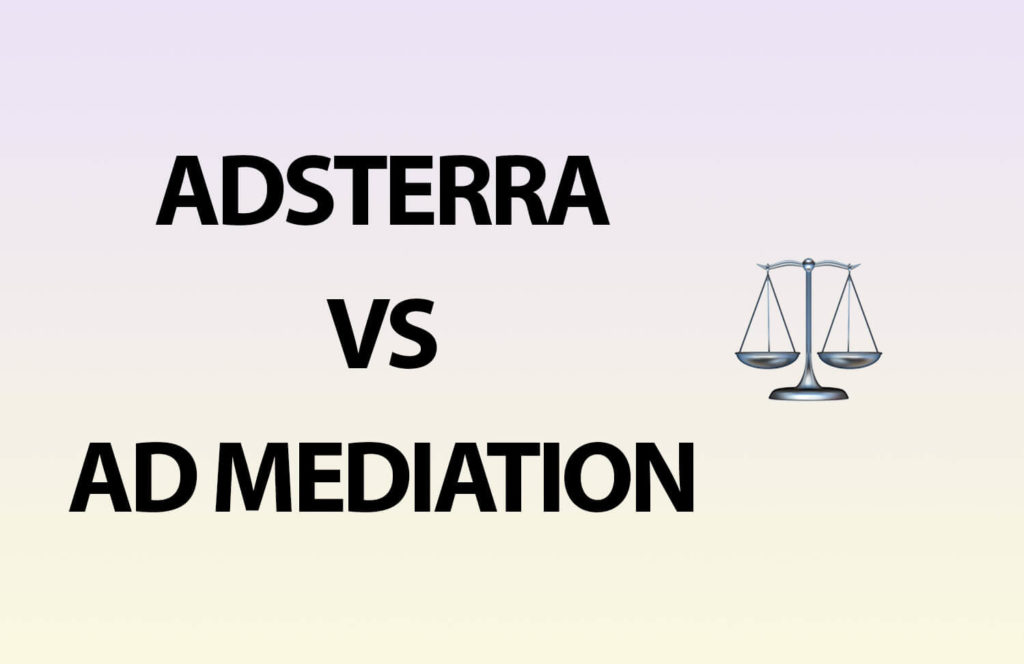 Every ad network has its advantages and disadvantages. While you think that it is good enough to work with one ad network only, other webmasters successfully double their revenue with AdSpyglass ad mediation service. It combines only the best features from the dozen best ad networks. AdSpyglass selects only ads with the highest CPM rates. The process of getting money is also effortless. You can withdraw a minimum $10 payout at any time via various payment systems.
Learn more: The Ultimate Guide to the AdSpyglass Mediation System 2021
Comparison of Ad Mediation and Adsterra
As mentioned before, the Ad Mediation service provides high CPM rates for all the countries while Adsterra has poor rates in Asian countries. Their minimum payout is $100 while the Ad Mediation minimum is $10. But they both work for you to get as high as possible revenue.
Conclusion
Definitely, working with networks is the best choice to maximize your monetization process but working with dozens of them at the same time is better. AdSpyglass Ad Mediation service is open to get such a possibility. Nothing can be better than working with professionals who offer such a great variety of possible features.
Read also: Ad Networks can «steal» your income: all tricks and methods explained