How to choose an ad network for a small website?
It takes a lot of time to experiment with ad networks and decide which one can bring you more revenue. Until recently, this process might take several months. Today, you can make a data-driven decision in a few minutes. How?
Use the online AdSpyglass CPM comparison tool. AdSpyglass collects and compares CPMs from dozen ad networks. Compare Popular Ad Networks CPMs for the last 30 days by stream, ad format and countries.
Here is a step-by-step guide on how to find a suitable ad network using the Top CPM Ad Networks List from AdSpyglass.
To start with, open this page.
1. Choose your stream: mainstream or adult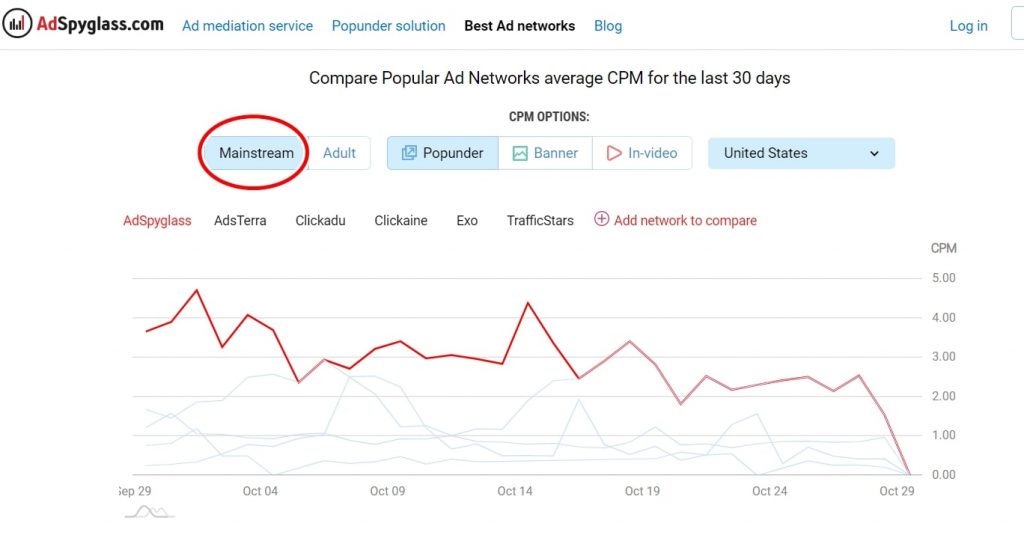 2. Select your ad format
You have three options to choose from: Popunder, Banner, and In-Video.
3. Select country
Select the country in which you have the most traffic. We recommend analyzing Top-5 countries for your website.
For example, the vast majority of your mainstream website traffic comes from the USA, Canada, UK, India, and Germany. Let's analyze CPM for banner ads for those countries.
Our Top-5 for USA includes Ads Terra, Adskeeper.co.uk, TrafficStars, Runative, and ExoClick.
Now change the country to Canada:
The list has slightly changed, but the above-mentioned ad networks are still on the top.
Check CPM for UK:
Check CPM for India:
Finally, check CPM for Germany:
You can see that AdSpyglass offers the most competitive CPM levels for our Top-5 countries.
AdSpyglass is a great ad network mediation system. However, it works only with websites that have at least 50K daily views, so if your traffic is below this level, opt for one of the above-mentioned ad networks.
You should understand that each ad network has particular requirements to the amount of traffic. To withdraw revenue, you will need to reach the minimum payout threshold in each of the ad networks you partner with.
Thus, if you lack website traffic and your revenue is pretty low, working with several ad networks might be a problem – you will have to wait long until you reach the minimum withdrawal threshold. For this reason, we recommend choosing one ad network for each ad format.
Read also: Monetize Traffic with AdSpyglass' Pop-Under Solution
In our case, the best choice for banner ads for this TOP 5 countries will be AdsKeeper.
Do a little research using this statistics for the last 30 days and put the code of the selected network on all your banner ads. But before you do that, read about the payment rules and limits, and check the pros and cons of the selected ad network.
There's no need to visit each ad network website – this information is available here on the AdSpyglass page. In the CPM comparison table, you will see the minimum payout limit, the frequency of payouts, and the payment systems supported by ad networks.
Do not forget to check the list of pros and cons of each ad network below the table: we have analyzed and compared them for you to make an informed decision.
Also, we recommend you to read detailed ad network reviews. We describe their features, commissions and fees, pros and cons, and the quality of customer support. Make sure to do your own research before you start working with a particular ad network to avoid facing unexpected payment limitations and additional requirements.
The final tip: if you run a new and small website, better focus on the growth of traffic instead of monetization. Watch the behavioral metrics, bounce rate, page views, and other statistics, and make sure to improve them.
If your website has at least 50K visitors daily, feel free to try the ad mediation service from AdSpyglass and enjoy 100% higher revenue!